Fashion Benelux Magazine
Looking good usually comes at an environmental cost. In fact, the fashion sector is the second-most-polluting industry in the world. Luckily, some designers create masterpieces which are as sustainable as they are stunning. inti ferreira (the label created by designer Semsa Ferreira) revolutionises the fashion industry, one dress at a time. Its collections are harmless for people and planet, and its production process is as transparent as they come. 'Our clients can even visit our ateliers themselves'. This lovely feature about inti ferreira can be read in full in the new January issue of Discover Benelux magazine
Local production
Yet, sustainable fabrics alone do not make your collection ecological. To keep a close eye on the production process itself, the team of inti ferreira creates every piece by hand in its proper ateliers. '
Attached to our store in The Hague, I have a small studio where I design the collections. The actual production happens in our other atelier, in the city of Bihać, in Bosnia-Herzegovina.
' This charming town in the northwest of the country is the hometown of Semsa and was once the beating heart of the nation's textile industry. With the Ex-Yugoslavia civil war, many companies closed or got destroyed, leaving the city with many unemployed, yet talented seamstresses. '
Our employees are very good at what they do. Nothing less-than-perfect leaves the workshop. We settled there to contribute to the city's local economy. Bosnia-Herzegovina is a forgotten corner of Europe. Supporting such regions is also paramount when creating ethical fashion.
' Every few weeks, Semsa heads to Bihać to visit the atelier herself. But, to keep the process as transparent as possible, customers are welcome, as well. '
When clients of mine travel to Bosnia-Herzegovina, they often ask me if they can pay our atelier a visit. That is never a problem. I think it is important for people to realise where their outfit comes from.'
Send Comments
[?]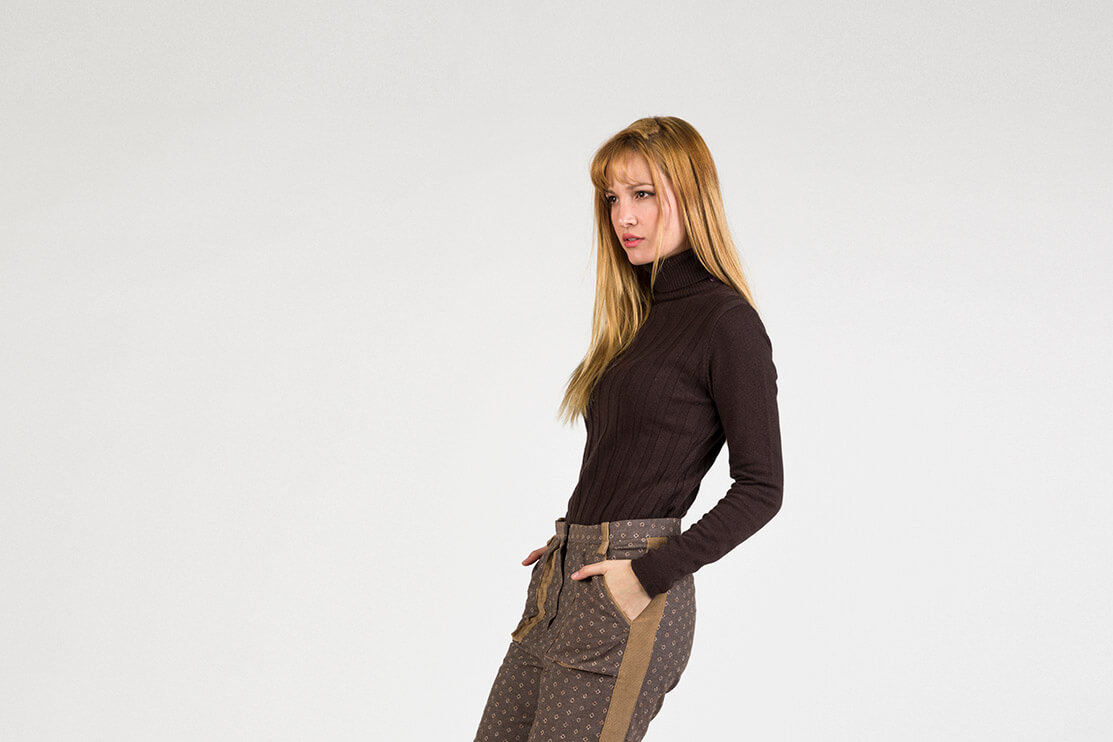 A change of heart
Guarding a unique balance between timeless, chic and exclusive; the collections of inti ferreira cater to a broad audience. We design for the active woman; whether she is 18, 45 or 78. Our clothing is meant for women who feel alive, seize the day and have an open mind. Its pieces are also very versatile. Combined well, a single item can be worn at work, at home, at the beach or at a party. 'Our clothing suits you from the minute you wake up until it is time to go to bed again.'

Semsa's creations also excel in standing the test of time, without them being boring or overly conservative. 'Ethical fashion must still be fashion. We want our collections to be fabulous and unique, as well as sustainable. To achieve that, we must follow a few basic trends, of course. The slim-fit trousers that were fashionable ten years ago may not be trendy today, but that doesn't mean that they don't look just as good on a woman as they did at the big parties ten years ago. We believe in slow fashion, and we see that many young people do as well. I don't have to become rich with my fashion. I simply hope to contribute to a change of heart.'
Send Comments
[?]